IT SAUCE : Redefining Condiments.
Here at IT SAUCE we are committed to using rare peppers and no "junk" to make really great tasting sauces. Our sauces are all created by Chef Dan Fisher to promote creativity in your own kitchen with perfectly balanced flavors for ultimate versatility. IT SAUCE is always made in small batches with no sugar, no stabilizers, preservatives or dyes.

The new everything sauce for discerning palates.
About our sauces...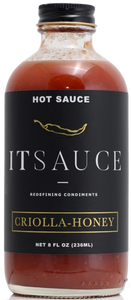 CRIOLLA-HONEY
-Mild Heat.
-Vinegar and Tomato Base.
-Spicy, Smoky, Sweet.
-Notes of Honey and Smoke.
Use as an "everything sauce" in place of BBQ or Hot Sauces. Marinate vegetables, use as a binder for smoking meats, toss it on your popcorn or chicken wings, use it on your breakfast foods, create sauces, soups, cocktails and much more!
Read More / Buy
ROCOTO
-Medium Heat.
-Vinegar Base.
-Spicy, Fruity, Bright.
-Notes of Apple and Warm Cinnamon.
Use as a traditional hot sauce or amp up the heat in salsas, chutneys, glazed seafood, chicken and vegetables. Brighten up eggs, tacos or pizza. Craft delicious spicy cocktails or teas and so much more.
Read More / Buy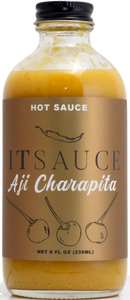 AJI CHARAPITA
-High Heat
-Vinegar and Mustard Base
-Spicy, Tropical, Tangy
-Notes of Pineapple, Mango and Dijon
Use in things like Pork and Pineapple Tacos, Vegetable Marinades, Chicken Wings, Grilled Pineapple Glaze, Potato Salads, Deviled Eggs, Curry Chicken Salad, Grilled Seafood, and much more
READ MORE / BUY
IT SAUCE Intregrity
NO SUGAR. NO STABILIZERS. NO DYES. NO PRESERVATIVES.
Just really great tasting sauces.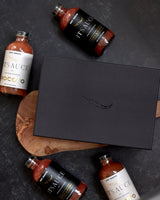 THE FALL BOX
Every season IT SAUCE's Chef, Dan Fisher comes out with 3 limited release, never-seen-before products created with the season in mind!

All perfectly packaged in a beautiful linen texture box, ready to be filled again with sauces and gifted to a friend, or kept and used around the house.
*The FALL BOX is available for purchase from September 15th-October 14th, and will ship out on October 15th! You won't want to miss it! Free shipping for domestic purchases of $50 or more!
Read More / buy
Testimonials
I'm from New Orleans, and hot sauce can totally be elevated. This. Is. Elevated.

Taster, Food & Wine Classic
THAT is the Rolls Royce of hot sauce.

Taster, Food & Wine Classic
Wow, that was a flavor journey you just took me on. That was amazing!

Taster, Food & Wine Classic
Our latest favorite recipes
Subscribe to IT SAUCE
Enter your email below to receive awesome recipes and stay in the loop on the latest sauce launches.